View the Recording Session
Guy Kawasaki
and A. Lee Judge talk about launching businesses, disruptive technologies, and how to land dream guests on your podcast.
As marketing and the technology behind it evolves, it's always insightful to speak to the people who have been deeply involved with the things that most of us only read about.
I often use the line from Hamilton when referring to these people as the ones who were "In the Room Where It Happened".
Guy Kawasaki has been in many of those rooms. From the room where companies like Apple brought us life-changing innovations, to the rooms in Microsoft, Google, and recent game-changing companies like Canva.
This episode is full of laughs, insights, and inspiration.
Conversation points:
To start out Guy, rather than an origin story, tell us about 2 or 3 of the biggest groundbreaking technologies that you were a part of before they broke ground.
You popularized the title "Chief Evangelist" and I've heard you describe an evangelist as someone who "brings the good news".
Share with us more about what that role looks like and why any company would need to have a Chief Evangelist.
Taking what you've shared about being a Chief Evangelist, and looking at your work in Social Media, I want to talk a bit about Executives and Social Media.
In most business organizations, there seems to be this struggle when it comes to "who can really speak freely on social media" about the product. Executives are too conservative, Salespeople are too salesy, and the most creative people in Marketing aren't empowered or trusted to be vocal.
Would you say that this challenge is best solved by having an Evangelist to bridge this gap?
Guy, you've seen a lot of world-changing technologies go from "crazy ideas" to "proven technology".
As an investor, how does that shape the way you see new ideas and unproven technology when it's presented to you today?
In most cases, I am a proponent of function over form. While at the same time I am a big Apple fan. Ironically, I'm worried right now that my mouse might go dead on me because I can't charge it and use it at the same time because the darn plug is "under" under the mouse!
You must have heard the reasoning behind some of the form over function reasoning at Apple. Can you tell us any stories or share views behind that?
Let's talk about Canva for a bit.
I've a lot of creative jobs in my career, I was a professional DJ, a web designer, a graphic designer, and an audio producer. With creative content, generally, the end-user could care less how it was made.
But, in each of those professions, you'll find hard-core platform purists. People who insist on doing things the "traditional" way and say you're not "professional" if you don't use the industry-standard tools.
Then eventually, you'll also see an inflection point where technology makes every creator bend to the new way of doing things.
How does a disrupter like Canva speak to those purists?
I want to ask a question for our entrepreneur and start-up listeners.
I often hear from my investor friends, that they are rarely (if ever) interested in Service-Based companies for "scalability" reasons – unless they have "productized" their service.
What can Service-Based companies learn from Product Based companies in regards to scaling and becoming more investable?
Guy, I want to step a bit deeper into learning about your personal experiences, because there is so much wisdom there.
I just purchased your book Wise Guy, so if I ask about something in the book feel free to mention "It's In the Book!" ok?
So, you've seen more, done more, and can drop names with the best in the world. Yet, when you speak, you seem to be the most humble modest person. In fact, I've heard you say "I'm no big deal".
Is it just your personality or do you have a methodology for staying grounded?
Every time I read a self-help or inspirational book, I'm reminded of something that my Dad taught me. Either through a story or by example.
He once told me that if he lost it all today, he would recover in a short amount of time. I asked him for an example: He said, "Ask someone if you can rake their leaves from their yard with their rake. When they pay you, then you buy your own rake, then you rake enough yards that you need to hire your friend, next thing you know you have a landscaping company."
I've heard mention of how hard-working your father was. Can you tell us about how any of his lessons may impact how you operate today?
Guy, it seems that you've made a lot of successful pivots in life. From leaving Apple, to writing and becoming a successful speaker, and numerous startup ventures.
Can you tell me some of the signs or signals that you've received throughout your life that encouraged you or let you know it was time for a pivot?
Guy, the most fulfilling thing about doing this podcast is being able to share (with my audience) the lives, insights, and stories of people like you.
And I know that podcasting is one of your most recent endeavors.
I heard you say 'I was born to podcast!' but very few people have a contact list of Remarkable People to reach out to for these conversations, so please tell us about your podcast and your goals behind it.
Guy, as we begin to wrap up here, I want to give my listeners a peek behind the curtain here. This question is a bit "meta" I evangelize that business people should be the content that other business people consume.
So, my way of creating content is having conversations with business leaders like you and sharing that with my audience. So, I asked my assistant to reach out to you. I would say that you have mastered "Showing up" and being the content that others consume.
But from your standpoint, what moved you to agree to join me in this conversation?
Well Guy, I am tremendously grateful for your time and insights today.
Would you like to share any final words about your most recent endeavors?
Thanks for listening to The Business of Marketing podcast.
Feel free to contact the hosts and ask additional questions, we would love to answer them on the show.
Rand Fishkin delves into the challenges of finding specific problems that Web3 addresses and questions whether it is a creative solution in search of a problem.
Read More »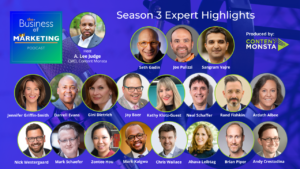 In Season 3 of The Business of Marketing Podcast, my listeners and I had the privilege of learning from renowned marketing professionals who generously shared their knowledge and experience.
Read More »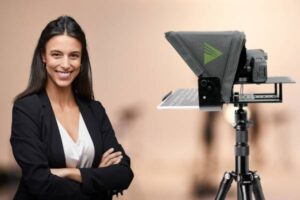 With cloud-based tools and the expertise of our video producers, we can record video remotely with the quality previously only captured with an in-person video crew.
Read More »