Digital Marketing is by nature a moving target when it comes to measuring effectiveness, maintaining effectiveness, and staying on top of all of the strategies required to be effective. It is easy to miss the mark in this ever-changing subject.
However, some areas of digital marketing are static in terms of the must do's to succeed. If you feel that you are falling short of your digital marketing expectations, here are six reasons your digital marketing may not be hitting those goals and some suggestions on how to fix it.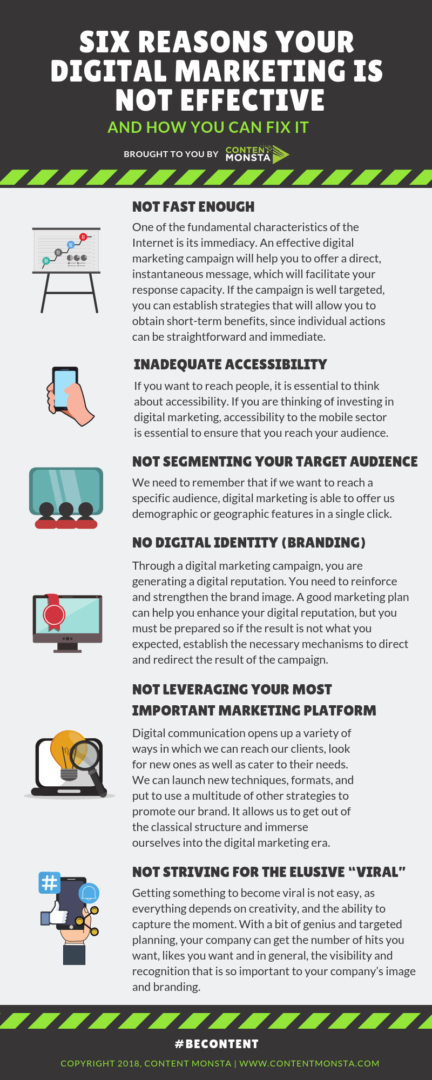 Share this Image On Your Site
Reason #1 Not Fast Enough
One of the fundamental characteristics of the Internet is its immediacy. That is what people are looking for through the use of online searches, apps, and other internet-driven technologies.
If we fail to use instantaneity to our advantage, we are not using online marketing for its basic purpose.  For this reason, an effective digital marketing campaign will help you to offer a direct, instantaneous message, which will facilitate your response capacity. If the campaign is well targeted, you can establish strategies that will allow you to obtain short-term benefits, since individual actions can be straightforward and immediate.
Reason # 2 Inadequate Accessibility
We must not forget that today the smartphone has become an indispensable means of communication for many, if not all users. If you want to reach people, it is essential to think about accessibility.
This is especially true if your campaign is aimed at young people. If you are thinking of investing in digital marketing, accessibility to the mobile sector is essential to ensure that you reach your audience.
Reason # 3 Not Segmenting Your Target Audience
Too many times, we have the right message, but it falls on deaf ears. This is the truest in the world of digital marketing. We need to remember that if we want to reach a specific audience, digital marketing is able to offer us demographic or geographic features in a single click.
We can quickly find a way to reach our specific audience. We can even establish strategies for sending digital newsletters, which in addition to building brand loyalty, will create our community, our future clients, and recipients.
Reason # 4 No Digital Identity (Branding)
Who are you on the web? Speaking from a marketing perspective, you're only as good as your last media post. This aspect is increasing steadily in this increasingly digital era.
You want to make sure your clients have a clear and positive picture of who your company is and what benefit they will have by being in association with you. Through a digital marketing campaign, you are generating a digital reputation. If the campaign is adequate, your positioning in Google will improve considerably, in addition to enhancing the opinion or social consideration that users have of your organization.
You need to reinforce and strengthen the brand image. Of course, you will want to have a good plan to manage a possible crisis. A good marketing plan can help you enhance your digital reputation, but you must be prepared so if the result is not what you expected, establish the necessary mechanisms to direct and redirect the result of the campaign.
Reason # 5 Not Leveraging Your Most Important Marketing Platform
It is far too easy to follow tradition, especially for companies that are segmented to a public that is already accustomed to a more classic form of publicity. The decision is not only classic marketing versus digital marketing, but also there is high importance of knowing which digital platform is best to reach your audience.
Old school or new, we can't disregard the need to capture new clients that are from a different era of visual instantaneous and continuous publicity. Digital communication opens up a variety of ways in which we can reach our clients, look for new ones as well as cater to their needs.
We can launch new techniques, formats, and put to use a multitude of other strategies to promote our brand. It allows us to get out of the classical structure and immerse ourselves into the digital marketing era.
Reason # 6 Not Striving for the elusive "Viral"
Viral is hard, but not impossible. Many times something unexpected can spread like wildfire, achieving excessive success, because it excites, and makes people laugh.
Getting something to become viral is not easy, as everything depends on creativity, and the ability to capture the moment. Who is to say that these moments can't be created?
With a bit of genius and targeted planning, your company can get the number of hits you want, likes you want and in general, the visibility and recognition that is so important to your company's image and branding.
So, to conclude: after reviewing this list, we know that almost everyone has access to the internet, whether at home, at work, on the cell phone or any other device. We are connected!
Therefore, if you want to get new followers and increase sales, you must correctly and effectively invest in digital marketing. However, this does not mean that traditional campaigns have to be set aside, it is always advisable to verify to which public we are attempting to target. In many cases, depending on the brand, it is recommended to combine both models, traditional and digital marketing.
Want to learn more? Get a free digital consultation from a professional Content Monsta!
Right-Sizing Your Marketing Team: Think Small, Achieve Big

Discover how businesses are adapting to economic changes by rethinking their marketing teams. Learn how partnering with specialized agencies can drive growth, enhance brand value, and achieve objectives with a leaner in-house team. Is your marketing strategy ready for the future?

How to Target Your Content for Best Impact

Unlock the secrets of efficient content strategy with our latest article. Drawing an unlikely parallel between hunting techniques and content creation, we delve into topics such as resource use, content multiplication, optimal distribution, and audience targeting. Learn how to focus and spread your content like a hunter with buckshot or birdshot.

Video Podcast Repurposing and Podcast Promotion Strategies

Harnessing the power of a video podcast for effective podcast promotion is a strategy businesses need to enhance their digital presence.